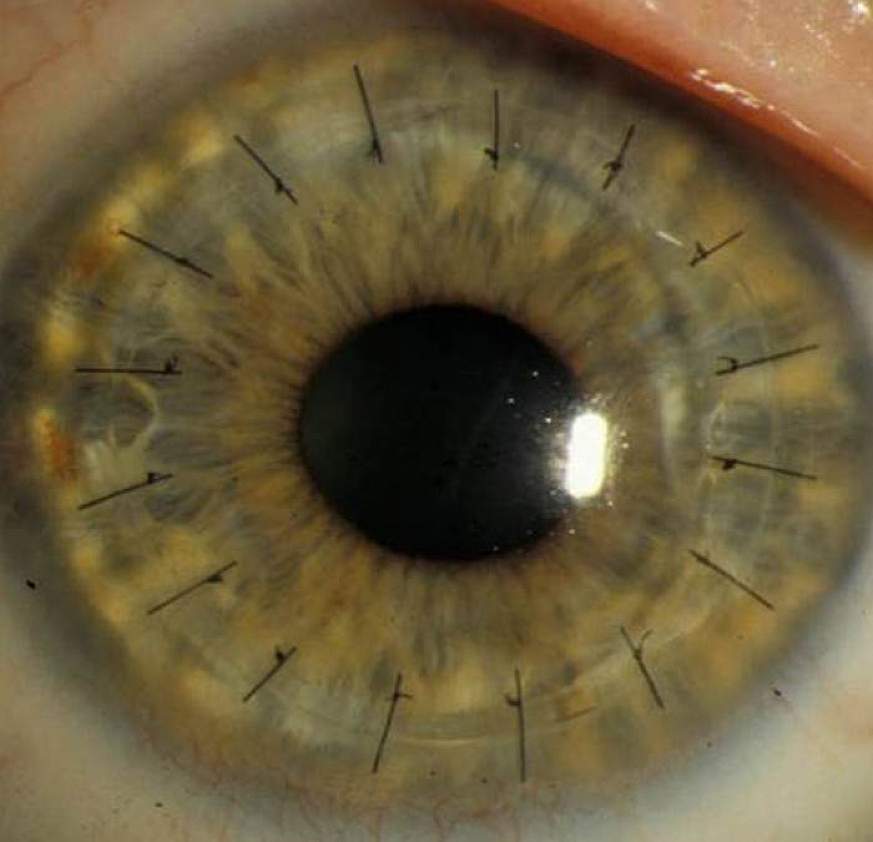 This looks like just like my olive green eye, minus one stitch!
Time for an update. In late November of 2018, I had a successful, full-thickness (PKP) corneal transplant in my left eye. My surgery was performed six years after I had bilateral, epi-off CXL which had failed less than two years earlier. My corneal surgeon had little faith in a DALK transplant due to the thinness of my cornea, although did attempt it first. However, my cornea tore apart in the process so my surgery was reverted to an old-school keratoplasty instead, as we had discussed prior. My keratoconus was very advanced and my cornea was only 250 microns at the time of the transplant so extremely thin. I had no complications during or after surgery, aside from giant purpura on the left side of my face from the lidocaine injection under my eye bursting my fragile capillaries, and healed faster than normal despite having Ehlers-Danlos syndrome, classical type, and severe dry eye syndrome. I still have all 17 stitches in my cornea to keep the astigmatism down. My donor cornea has a thickness of 500 microns and although I still need to wear a scleral lens in both eye with glasses over that, my uncorrected vision is immensely better thanks to my new cornea. Without my lenses in, I can see my smartphone and even my face in the mirror although the severe asymmetry in my vision is becoming an issue. I could hardly see anything before my transplant so I try not to complain. My right eye is continuing to thin (currently 291 microns) and the vision is very minimal so, unfortunately, I will need a transplant in that eye, as well, within the upcoming years as it is now staged at moderate-advanced.
The transplant surgery was worse than I thought in terms of recovery and was quite long and painful. I experienced a chronic stabbing pain in my eye as well as severe pressure in my head, somewhat like a very bad, dull headache, which made it impossible to sleep laying flat for a few days as the pressure would build. The first week was by far the worst and things slowly got better each day. I also dealt with severe light sensitivity for quite a few months and wore sunglasses non-stop, even when shopping, so am really not looking forward to going through this again as bright lights still bother me and I keep my home rather dim. It was over 6 months until I could get a lens in my eye so that was another frustration, but at least the next time I'll have one eye with pretty good vision so driving will be less worrisome. I get by fairly well now vision-wise compared to what I was working with before, but still have difficulty driving at night due to the lights. My corrected visual acuity fluctuates between 20/25 and 20/40, mainly due to my dry eyes, and my right eye is actually drier than it was before which may be from my highly irregular corneal surface due to all the stitches. I must say the biggest surprise of the transplant was going back the following day (in so much pain I was nauseous) to discover that once the tech took the big bandage off my painful eye, I could clearly see her and read the 20/40 line on the eye chart. It was really miraculous and I am forever grateful to my anonymous corneal donor for that.
If you have Ehlers-Danlos syndrome (EDS) and keratoconus as I do, my best advice is to find a good corneal surgeon who is at least familiar with EDS as they will take that into consideration when planning your surgery and recovery. If you get sick from general anesthesia like I do, ask for twilight sleep (such as Propofol) as I was able to get that even though I do recall waking up at least once but everything was black and I felt nothing due to the lidocaine and then was right back out. My dry eye syndrome was also taken into consideration, which is another important factor in any corneal surgery and I liberally used my preservative-free drops which likely helped speed up recovery by keeping my eye as moist as possible. Using all medications as prescribed is also vital for a successful transplant. My surgeon was worried I would not have good vision post-transplant due to all my health issues but I proved otherwise. I am still under doctor's care every 3 months, as well as a steroid drop once a week, and a little over 2 years later, things are still status quo.